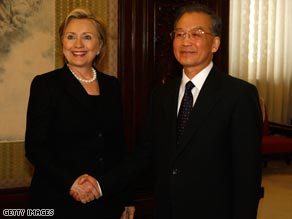 Nice to see Hillary Clinton living up to her reputation.
U.S. Secretary of State Hillary Clinton broached the issue of human rights with Chinese leaders on Saturday, but emphasized that the global financial slump and other international crises were more pressing and immediate priorities. The United States will continue to press China on issues such as Tibet, Taiwan and human rights, she told reporters accompanying her. "But our pressing on those issues can't interfere with the global economic crisis, the global climate change crisis and the security crises," she said.
So many crisis just no time for human rights in China? More hope and change, unless you are abused by the tyrants in Beijing. Climate change comes before human rights – that's Clintonian priorities at this time. Hope the media focus around this???