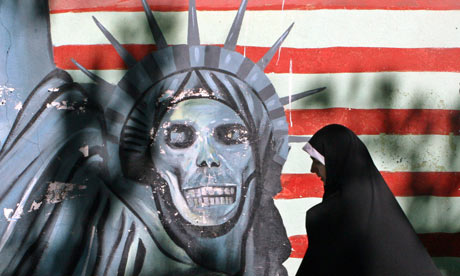 "Officials of Barack Obama's administration have drafted a letter to Iran from the president aimed at unfreezing US-Iranian relations and opening the way for face-to-face talks, the Guardian has learned.
The US state department has been working on drafts of the letter since Obama was elected on 4 November last year. It is in reply to a lengthy letter of congratulations sent by the Iranian president, Mahmoud Ahmadinejad, on 6 November.
Diplomats said Obama's letter would be a symbolic gesture to mark a change in tone from the hostile one adopted by the Bush administration, which portrayed Iran as part of an "axis of evil". (Boo Hiss – we all know that Iran is a good and kind nation) It would be intended to allay the ­suspicions of Iran's leaders and pave the way for Obama to engage them directly, a break with past policy."
Yes- the letter should really do the trick. Why didn't anyone in the Bush regime think of this cunning ploy I wonder? Oh well, now we have the Demo sophisticates in power we can be sure that more letters will be written and surely more problems solved.
Mind you, Ahmie has responded to an overture by The One by.. demanding an apology for past US "crimes" committed against Iran.
I wonder if a written apology will suffice?
God, grovelling to Iran and he's only just been sworn in. Israel – look out.